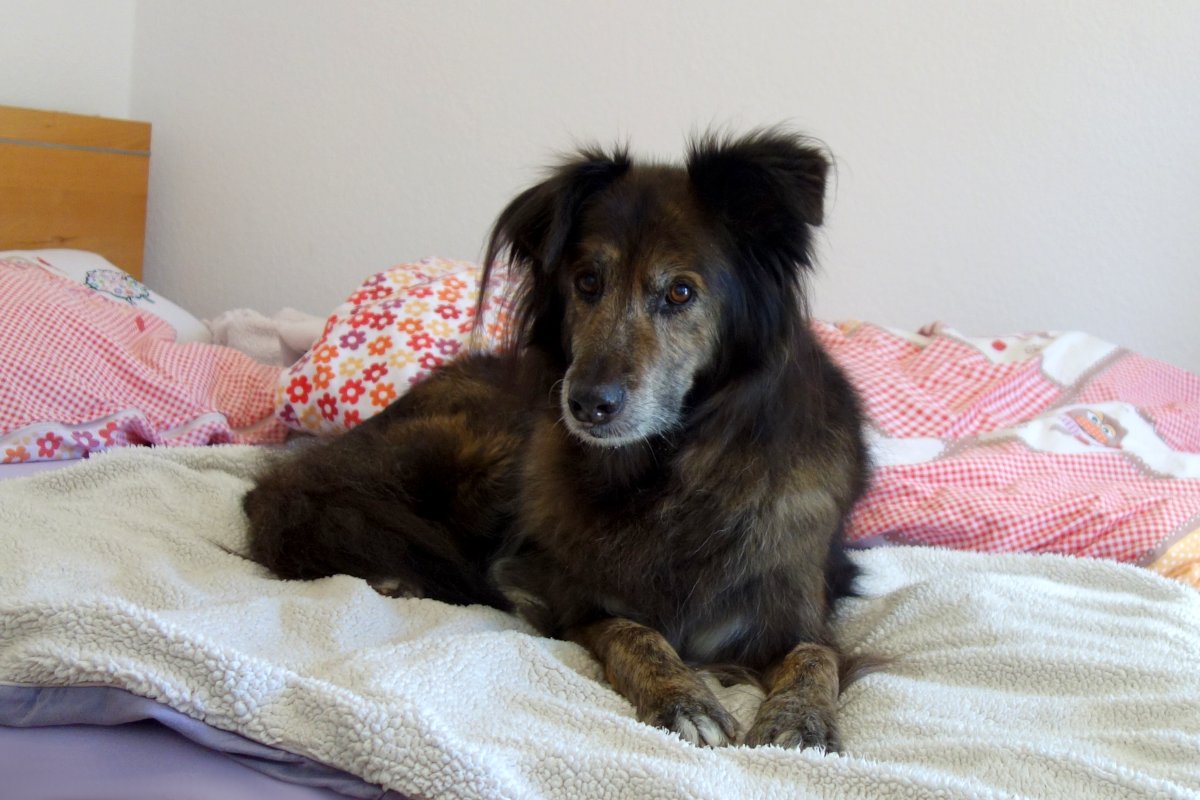 Can the dog sleep in my bed?
Dog owners love to cuddle up in bed with their dogs. Many pet owners say they can sleep better with their pets.
Today we will explain the pros and cons once when the dog is sleeping in bed.
Are dogs allowed to sleep in bed?
The physical proximity of the dog in bed offers cuddly company and comfort. Some people with insomnia have found that they sleep better with a dog in bed.
Thanks to the rhythmic breathing of the dog sleeping next to their owners, dogs help to reduce stress. The proximity of the dog increases the production of the hormone oxytocin which is responsible for feelings such as affection and happiness, and it lowers the heart rate.
If the child is afraid of the dark at night, it can be calmed by the dog sleeping in bed and give a sense of security.
A dog in bed can also raise an alarm against potential intruders.
The dog's sensitive sense of smell and hearing can alert the owners to unusual events during the night, probably long before they even realize it.
In winter you can keep each other warm when the dog is sleeping in bed. In earlier times, it was common in northern regions for the dog (or the dogs) to be put to bed on cold nights to keep warm.
There are also more and more studies showing that dog owners are less often sick, because the immune system is strengthened. Children sleeping in bed with a dog or cat are also less likely to suffer from asthma and allergies.
Sleeping in bed – with the dog?
Some pet owners say that their pets in bed disturb their sleep.
Dogs are not nocturnal like cats, but they dream at night, and "run" or bark and growl while sleeping. In addition, they occasionally wake up at night and change their sleeping position.
If the dog sleeps in bed, there is little risk of the dog transmitting disease to humans. Parasites, or bacterial infections, can potentially be transmitted from pets to humans.
People with a weakened immune system or immune suppression should therefore better give the dog a separate bedroom.
If you have a healthy, lively dog ​​that is regularly examined by a veterinarian and has been living with you for many months or years, you do not have to worry about sleeping with you in bed.
May the puppy sleep in bed?
Depending on the origin and state of health of the puppy, it should perhaps sleep in a dog's box at home for the first 30 days after arrival.
So you can avoid puppy pee in bed and make sure that the puppy is healthy enough to sleep in bed with you.
If you want to allow your little puppy to sleep in bed, you should remember that it wants to sleep in bed with you even in full height.
Because you are his pack leader, he naturally wants to sleep as close as possible to his pack. If you do not want your fully grown dog to sleep in bed with you, you shouldnt allow it as a puppy from the beginning, otherwise it will later be disappointed.
If you have decided that your dog will sleep with you in bed, I recommend that you first have him thoroughly examined by a veterinarian to make sure that the dog is healthy and has no communicable diseases.
Dog in bed – hygiene tips
Vacuum the bed every day and often wash the sheets on the bed
Air bed blankets outside
Wash bedding at 90°C (195°F)
Briefly wipe the paws with a damp cloth in the evening before bedtime
Keep the fur on the paws short
If you have a dog that likes to roll in disgusting stuff, it definitely needs to be washed before being allowed to sleep in bed. To the article Bathing the dog
Is Filos allowed to sleep in bed?
My dog ​​Filos loves to sleep in my bed, especially when I leave him alone, or when it's very cold. Sometimes he prefers to lie down on his pillow (he has a huge, cuddly dog ​​pillow).
When I'm not at home, he immediately goes to bed and, so to speak, takes my place as a pack boss.
In winter, when it is very cold, he may also like to sleep with me. But if Filos is wet, then he has to wait until I dried him off. He always lays his head on the edge of bed – to ask if he is allowed in.
May your dog sleep in bed? Tell us your story!