Which dog collar size for my dog?
| | |
| --- | --- |
| Sizing Chart Dog Collars | |
| Size: | Abjustable Neck Size: |
| S (Width: 0,6") |  11" – 17,5" for small dogs and puppies |
| | Border Collie, Dachshund, Poodle, Chihuahua |
| M / L (Width: 1,0") |  16" – 26" for medium / large dogs |
| | St. Bernard, Boxer, Labrador, Bulldogs |
How to measure my dogs neck circumference?
To measure the circumference of the neck, put a measuring tape around the dog's neck. If none is at hand, you can also take a strip of paper and then measure it with a ruler.
At the lowest point of the neck before the dog's shoulders begin, the correct circumference for the dog collar is measured.
How does the dog collar fit correctly?

The dog collar should neither be too tight nor too loose. How tight the dog collar should be set, also depends on the dog's head.
If two fingers fit under the collar and it does not slip forward over the head, it fits properly.
My puppy is still growing! Is the dog collar adjustable?
For a puppy or young dog, it is important to check regularly if the collar should be resized. The DipthDesign dog collars are adjustable without steps. This means you can perfectly tailor them to your dog.
Washing and care instructions for the DipthDesign products
To make your DipthDesign dog collar look brand-new as long as possible and retain its beautiful shine, we recommend the following care methods: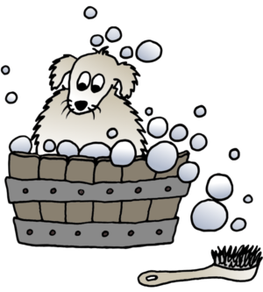 The DipthDesign dog collar made of waterproof nylon is washable:
In lukewarm water (around 30 °C (90 °F)) simply lather with a little soap or shampoo and soak for a few minutes. Then rinse well and dry flat in the air.
Please do not tumble dry or iron. We would also not recommend any chewing and nibbling!
The DipthDesign dog collar will last longer if protected from very strong sunlight, salt and chlorine water. Therefore, we recommend to take off the collar before taking long bathes in the sea and swimming pool.
Do you still have questions? We are always there for you!