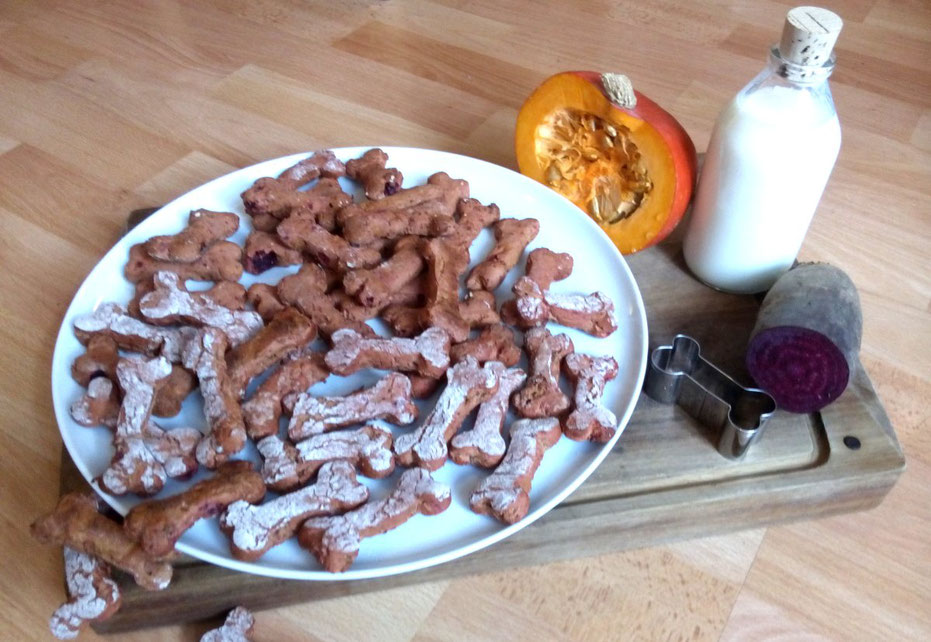 Creepy pumpkin bones for dogs
Grain free and delicious!
You need:

150g pumpkin

100g beetroot for the scary effect

2 cups of potato flour

3 tablespoons buttermilk

100g of beef liver

1 tbsp. vegetable oil

Preparation:

First wash the pumpkin and cut into small cubes.

Finely dice the beetroot and place both in a small pot.

Pour the buttermilk and let it boil.

Simmer on a small scale for about 5-6 min.

Then allow to cool slightly and purée together with the liver and the oil in a blender or with a stick.

Gradually add the potato flour

and knead until a thick dough has formed.

 
 

 

Dust the dough with a little flour

and roll out about 1-1.5 cm thick.

Then the bones can be gouged out.

Turn on the oven.

 
 

Spread the bones on a baking tray with baking paper and bake at 180°C (360°F) for 20-30 minutes.

Then the dog treats are crispy on the outside and soft on the inside.
After cooling, the scary bones in a tin can last a little over a week. Of course they are best fed immediately! 😉 😉
Healthy for the dog
Buttermilk contains many vitamins as well as calcium, potassium and phosphate, which help cell growth in the formation of red blood cells and regenerate the mucous membranes. Potassium is important for a healthy heart.
Buttermilk also contains a lot of lecithin, which improves memory function.
Pumpkin has a high content of antioxidant beta-carotene. This is important for the eyes and supports the body's defenses.
The pumpkin is actually a giant and can weigh up to 100 kg.
Beetroot is one of the healthiest vegetables in the world. Beetroot is rich in betaine, protects liver and bile. The leaves are also very healthy.
Liver is also commonly used in raw pet diets because it contains many nutrients in large quantities, such as zinc, copper, biotin, iron, selenium and the vitamins A, B2, B12 and D. In addition, Liver is low in fat and high in protein.
You liked our treat recipe? Write a comment below