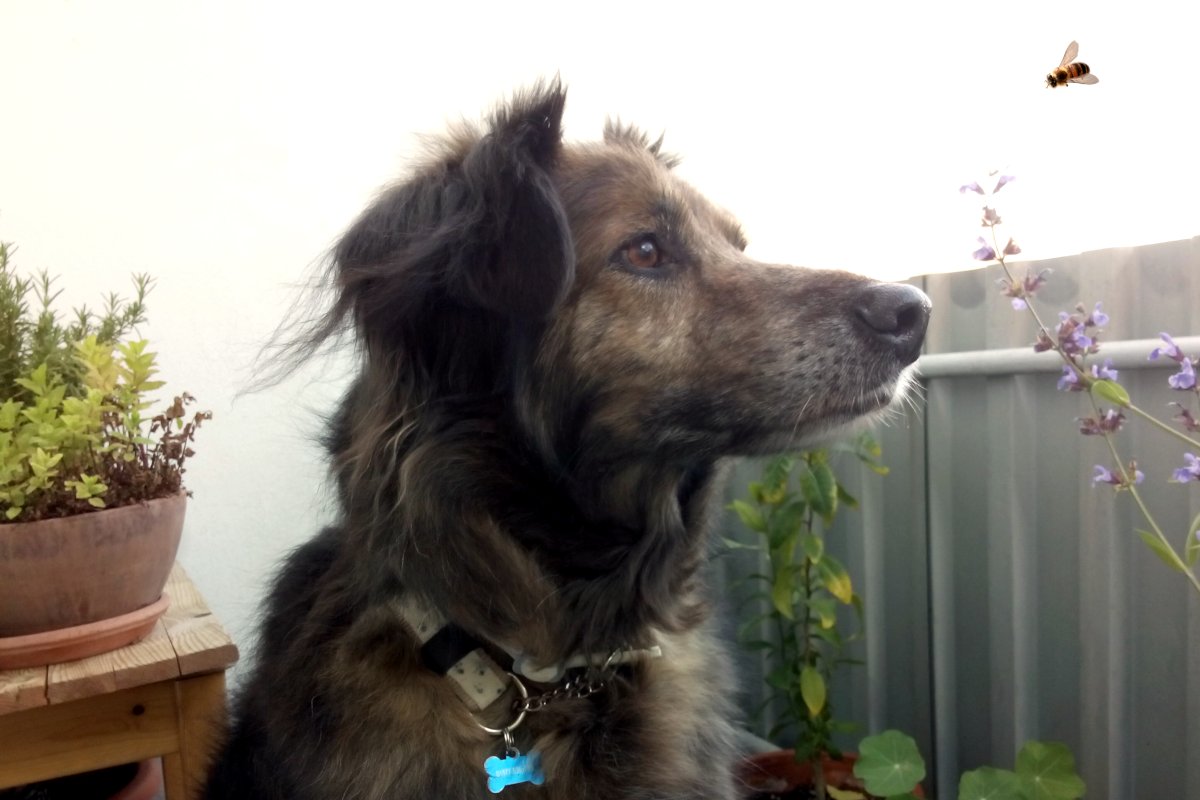 Honey and Propolis for Dogs
Since thousands of years we use honey to cure and relieve colds and fever, or cough to soothe the throat.
Honey is a very versatile remedy that is also good for dogs.
Can Dogs eat Honey?
Honey is produced by honey bees. From collected nectar and honeydew honey is produced in the honeycombs of the honey, which the bees need as food supply for the winter.
The bees need a lot of energy, so the content of fructose in honey is very high, which gives it its typical, sweet taste.
Is Honey good for Dogs?
Apart from sugar, honey contains many phytochemicals, especially flavonoids, vitamins, enzymes, proteins and minerals.
The ingredients in honey have antibacterial properties and also serve bees as protection against pathogens. That is why honey is very healthy for humans and also for dogs.
New studies prove this antibiotic effect of honey. Because of this action against bacteria honey is also used specifically for wound treatment. The honey even works against multidrug-resistant bacteria (MRSA), which have become resistant to all antibiotics.
That is why there is even medicinal honey that is used specifically against these germs.
This effect against bacteria, however, has only untreated wildflower honey, the most famous being the New Zealand Manuka honey.
It is produced by bees specifically from the blossom nectar of the Manuka shrub, which also has an antiseptic effect.
However, every organic wildflower honey contains these ingredients as long as it has not been heated. In the supermarket available honey has no more antibiotic properties for the dog, as these substances break in the heat.
Good medicinal honey has a high content of methylglyoxal (MGO), which is declared on the packaging.
Honey for Dogs in case of Illness
Honey helps the dog with all sorts of problems. In case of illnesses, however, the vet should always be consulted to make sure that nothing has been overlooked.
Honey for Dogs with Inflammation
For inflammation of the skin and mucous membranes as well as cystitis, honey helps dogs very well in most cases.
Throat problems or gingivitis in the dog can be treated with honey and propolis and against bronchitis and cough we have known honey for a long time.
Many chronic diseases of inflammatory cause can be cured well with honey for the dog.
Honey for Dogs against Hot Spots
If the dog has hot spots, apply the honey directly to the inflamed skin several times a day.
Honey for the Canine Immune System
Dogs with a weakened immune system can get honey as a nutritional supplement for a little more energy.
Honey is especially good for underweight dogs and dogs recovering from illness. So the dog gets with the honey important nutrients to strengthen his immune system.
Honey against Parasites in the Dog
In case of parasite infestation, honey can be applied to the dog both externally and internally.
Honey Spring Cure for the Dog
The eight-week honey spring cure with a teaspoon of honey for the dog helps to stimulate the dog's metabolism. In order to protect the dog's teeth, it is recommended to feed the dog after the honey a carrot, so the risk of caries is minimized.
Propolis for Dogs
Propolis is a brownish yellow resin used by the bees to seal the hive to protect the honeycombs from germs. The propolis consists of wax, natural resin, pollen balm, essential oils and the saliva of the bees.
Propolis has been found to work against bacteria, viruses and fungi. So far, there is no chemical that combines these properties and they make propolis a very popular and effective natural remedy.
Propolis is also used for pain and detoxification. In addition, it is said prevent cancer, has a strong anti-inflammatory effect and stimulates the immune system of the dog.
Homemade propolis balm helps the dog with a chapped and sore nose and against dog calluses.
Propolis for Paw Care
To care for the paws in winter, coconut oil or shea butter mixed with some propolis work particularly well. The paw balm is suitable for sensitive paws in winter and to protect against snow, ice and road salt.
Even with simple, old home remedies can do something good for the dog and dont need to buy expensive preparations.
No Honey for Puppies
Puppies and dogs younger than 12 months old, should – as babies too – get no honey yet.
Like all natural products, honey and propolis can cause allergic reactions in the dog. That's why the dog at the beginning should only be given a small amount of honey and then watch it for a while, to make sure that it can tolerate the honey well.
If you liked the post about honey for dogs, share it with your friends!