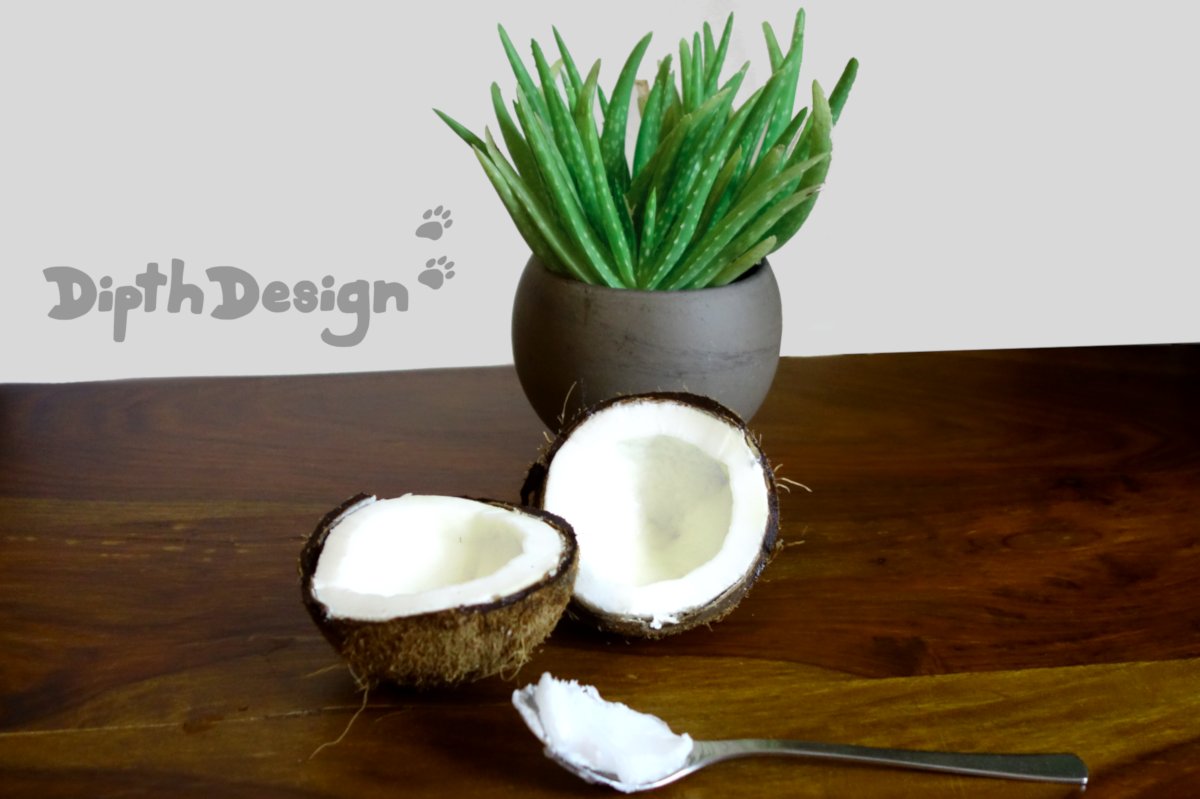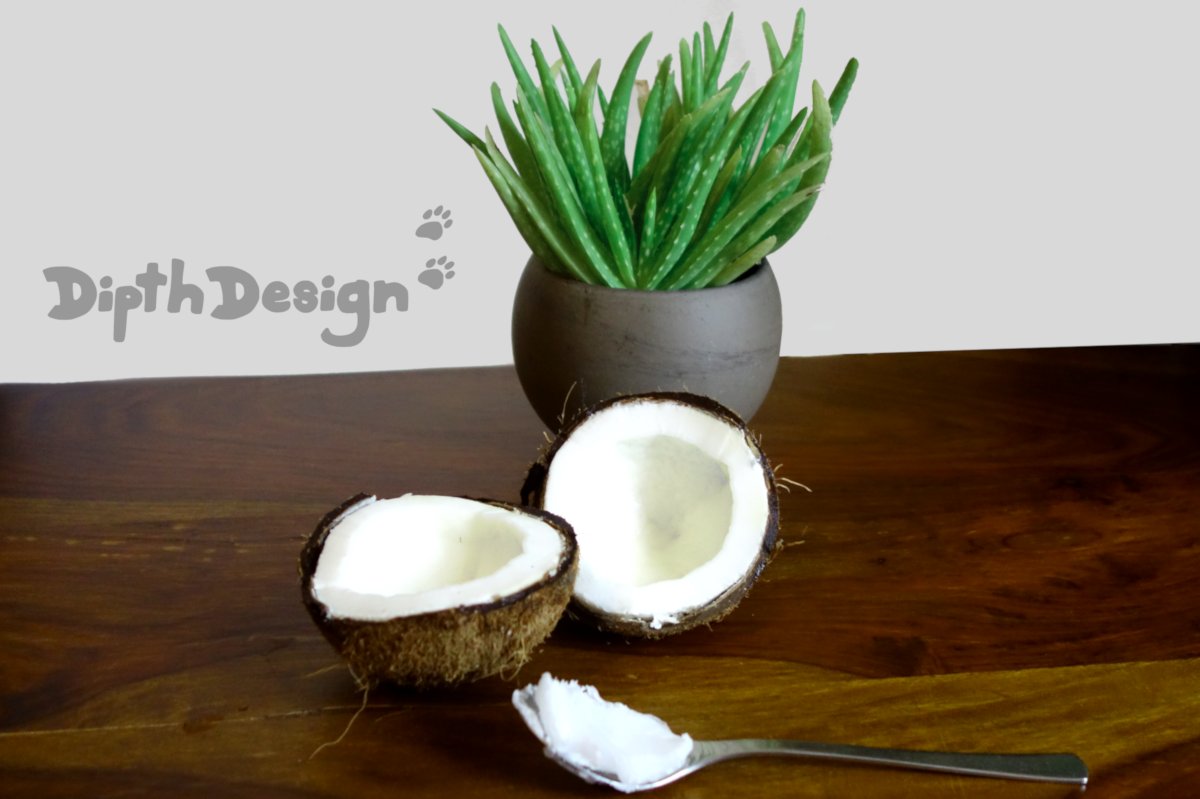 Coconut oil for dogs
Coconut oil is extracted from coconuts. It contains a high content of saturated fatty acids.
Because of the medium-chain fatty acids (medium-chain triglycerides = MCT) coconut oil became known as "healthy". However, these usually are present in a small amount only.
Is coconut oil good for dogs?
Pure and unrefined coconut oil contains lauric acid.
This has an antibacterial effect and also combats fungi and viruses. In addition, it serves as a natural insect repellent.
The fatty acids are also used to make insecticides.
Coconut oil also has a moisturizing and cooling effect.
In the industry, coconut oil is used for sweets such as chocolate or ice because of its cooling effect. Also in cosmetic products coconut oil is often included.
Should I give coconut oil to my dog?
Coconut oil can be used in dogs for a variety of purposes:
Coconut oil against ticks
The lauric acid contained in the coconut oil emits an unpleasant odor for ticks. This will help to reduce the infestation of ticks by eliminating the parasites and thus prevents the tick bites.
Just rub in your dog's coat and skin before going for a walk with a small amount of coconut oil. Especially on the head, neck, stomach, legs and ears of the dog, the coconut oil must be well greased.
Because coconut oil is a natural remedy, the effect does not last so long.
For several hours of walks through high meadows and forests, it is therefore useful to take some coconut oil in a small tin.
In some regions, however, there are very persistent species of ticks, which are not completely prevented by the coconut oil from infesting our dogs.
If the tick has bitten the dog, you must not soak it in coconut oil. The tick would then transfer more bacteria into the dog's bloodstream.
In this case, the tick must be carefully pulled out with a tick tweezer.
Coconut oil for grooming
To care for your dog's coat and make it shine, massage a little coconut oil into the coat with your fingertips.
This makes the fur very soft and it looks nicely groomed. In addition, the massage is also very pleasant for the dog.
Coconut oil against fleas
Coconut oil helps very well against fleas. Dog fleas find coconut oil awful and seek out the space.
If the dog has fleas, it helps to carefully rub with coconut oil for several days and then to bathe the dog.
You should definitely wash the dog's baskets and pillows too.
Coconut oil against worms
Worms, giardias and other parasites often infest the dog's intestine.
The lauric acid contained in coconut oil acts against these parasites and makes the dog less susceptible to worms.
To prevent infestation, simply add ½ tablespoon of coconut oil per 10 kg of body weight to the dog's food every day.
A dog with a worm infestation must always be presented to a veterinarian.
The dog smells from the mouth
If your dog smells bad from the mouth, too many bacteria have settled on his teeth.
With the right dental care and regular brushing your dogs teeth, the dog gets fresh breath again. Take a small amount of coconut oil and brush the teeth and gums of your dog.
Brushing the dogs teeth with coconut oil prevents the bad breath and prevents inflammation.
How to brush your dog's teeth, you'll find in our article → Brushing the dogs teeth
Prevent joint problems in dogs
The fatty acids contained in coconut oil act against the microorganisms that cause joint diseases such as arthritis and osteoarthritis.
Coconut oil against ear infection
Due to its antiviral and antibacterial properties, coconut oil also helps against ear infections. To help your dog with ear infections liquid the coconut oil in a water bath and use as an ear drop.
If your dog has ear mites, soak a soft cloth or cotton pad in the liquid coconut oil. With this you can carefully wipe out the ears of the dog.
Coconut oil for older dogs
The coconut oil contains a lot of vitamin E. The antioxidant helps to protect against infections and diseases. It brings more vitality to older dogs and strengthens their immune system.
In addition, it ensures a healthy nervous system, maintains the brain function of the dog and helps to prevent dementia.
Coconut oil for the dog
Coconut oil has many good properties for the health and vitality of your dog.
But many coconut oils offered have been processed too long or heated up at very high temperatures.
As a result, the lauric acid and the vitamin E has been destroyed and the coconut oil has no effect.
Sometimes other oils, such as palm oil with coconut scent, are perfumed and sold as coconut oil.
If you want to buy good coconut oil for your dog, these 3 things you should definitely read on the packaging:
untreated
cold-pressed
organic certified
Do you give coconut oil to your dog?
Write us a comment, we are looking forward to your thoughts