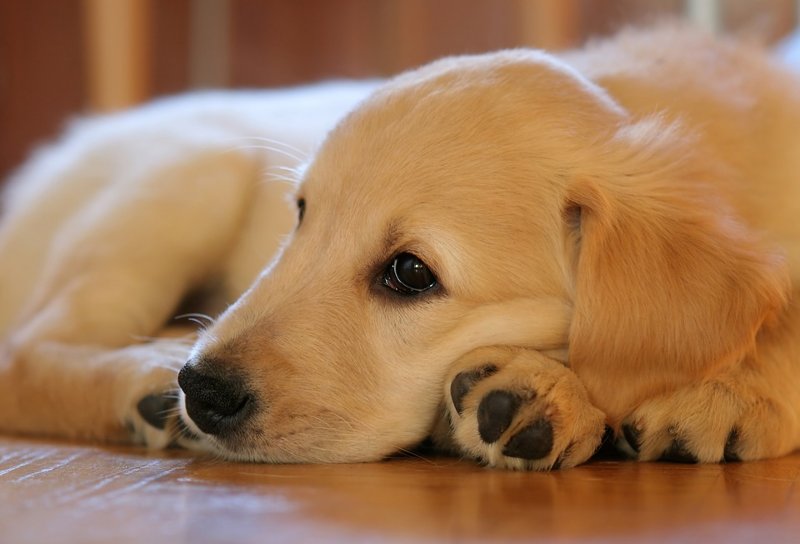 A puppy arrives in the new home
Time has come: The little puppy finally moves in!
Before the puppy can feel well at home some things have to be prepared:
Anything that can hurt the puppy should be removed as much as possible. This means: loose cables within reach of the puppy must be hidden, sharp edges should be covered.
Stairs can be secured with a small grid. In the first time the puppy should walk as little stairs as possible anyway.
The fence of the garden must be made puppy secure, garden tools lying around should be removed, everything that represents a possible risk of injury for the young dog. You should also make sure, that the plants in house and garden are no dangerous species for the dog.
Equipment for the puppy
Even before the puppy moves in, you should find a sleeping place for it, to sleep and remain undisturbed. This should nevertheless be in a common used room, so that the puppy does not miss its family too much. Its also a good idea if the floor is easy to clean.
Depending on what you like, a dog basket, dog cushion or a transport box are suitable as puppy sleeping place. When choosing you should plan that the puppy will grow up and need a larger bed.
There must also be a bowl for food, as well as a water bowl that is always filled with fresh water. The bowls should be placed in a place that is always accessible to the dog.
The arrival of the puppy
When the puppy arrives home, it is best to be led through the new home for the first time.
You show the puppy on a leash every room one after the other, as if to show a friend the house. As a pack leader you determine rules from the first day on (for example, whether the dog is allowed on the bed or couch and that the trash can is no feeding bowl).
The puppy usually gets used to the new home very quickly.
The puppy on the way
After some time, the puppy is ready to explore the environment and meet new people and dogs in the area. If you meet many dogs and maybe even visit a puppy play group your puppy can socialize with other dogs.
This is how wonderful dog-friendships are created.
What experiences do you have in getting your puppy settled in the new home?
Write us a comment and share this post with new dog parents!