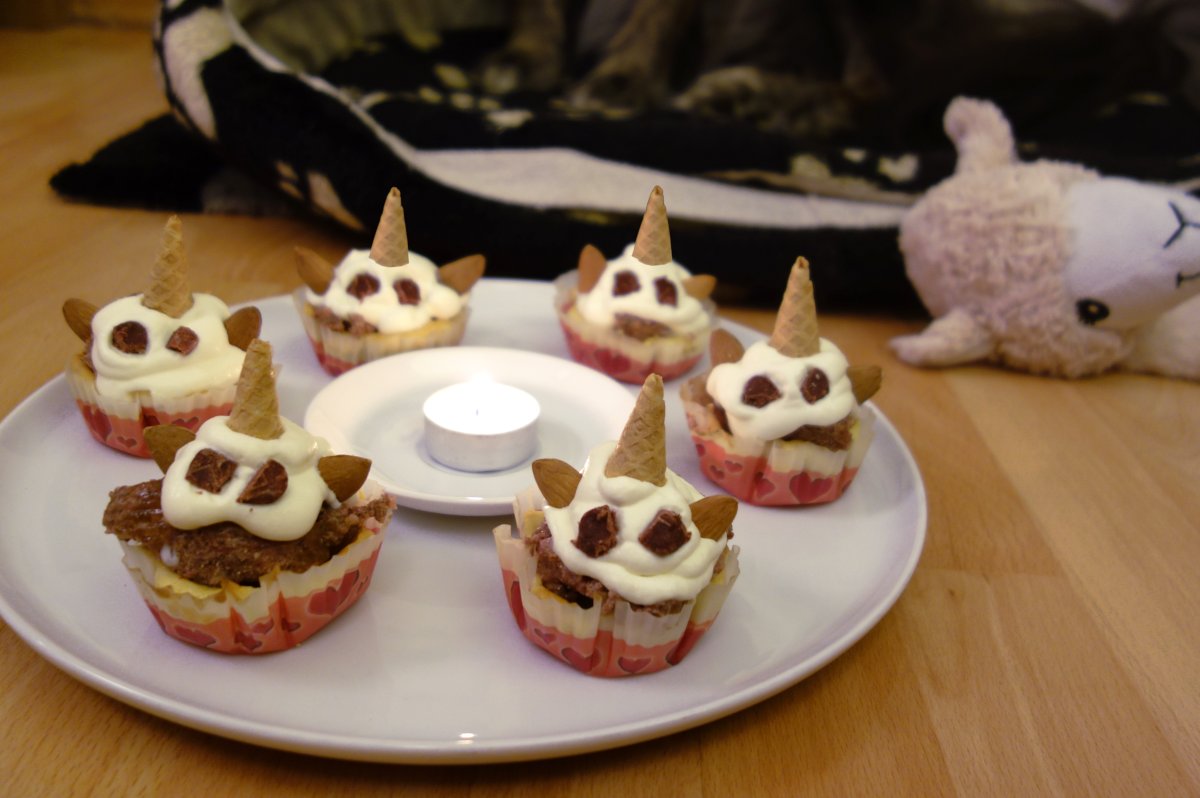 DipthDesigns DIY Unicorn Cupcakes for the Dog Birthday
"Filos says mmh yummy"
Recipe for 6 dog cupcakes
Ingredients for the dough:
1-2 handfuls of flour (I used dinkel wheat flour)
1 pinch of salt
3 Tbsp. olive oil (or whatever you have in your kitchen)
about 2 Tbsp. fresh lemon juice
some water
1 egg
Ingredients for filling & frosting:
1 can of wet dog food of your choice (favorite)
1/2 cup whipped cream
1/4 package cream cheese (full fat)
Topping:
6 small ice-cream spikes (only a small piece, contains sugar)
possibly round treats (actually wanted some with ring as eyes)
Almonds as unicorn ears
Otherwise: Cupcake-baking dish and cupcake paper wrappings (you can also make them from baking paper)
Unicorn cupcakes preparation:
First put the flour in a bowl and knead with salt, oil and lemon juice. Add a little water until a smooth dough with a silky surface is formed.
Knead the dough well for a while. If its still a little sticky, add a little more flour.
Preheat the oven to about 185°C (365°F).
Then divide the dough into 6 small pieces and roll them into small balls. The balls can then be pressed into the molds and formed up to the edge, so that small bowls arise.
Whisk the egg and coat the edges of the formed bowls with it. Then bake the cupcakes for about 15-20 minutes.
While the cupcake bowls bake, the cream can be beaten, if necessary, mix in some cream stabilizer powder. If firm enough, carefully fold in the cream cheese.
Pour the mixture into a piping bag with a nozzle and place it in the refrigerator for a little while.
If the edges of the cupcakes turn golden and they slightly lift their middle, they can be taken out of the oven. Carefully place them on a grid and allow to cool.
If the cupcake bowls have cooled down enough they can be filled: Add 2 small spoons of dog wet food to the bowls so that they are filled up.
Then the frosting can be applied with the piping bag. The unicorn cupcakes are decorated with 2 almonds each as ears are inserted right and left into the frosting.
Slightly press in the eyes of treats and finally put on the ice tips.
The unicorn cupcakes are ready!
You can store the Unicorn cupcakes in the fridge for about 2-3 days. 1 Cupcake is a good serving for a small dog.
If you liked our unicorn cupcakes recipe and made them for your dog, please share a photo with us, we look forward to seeing you!