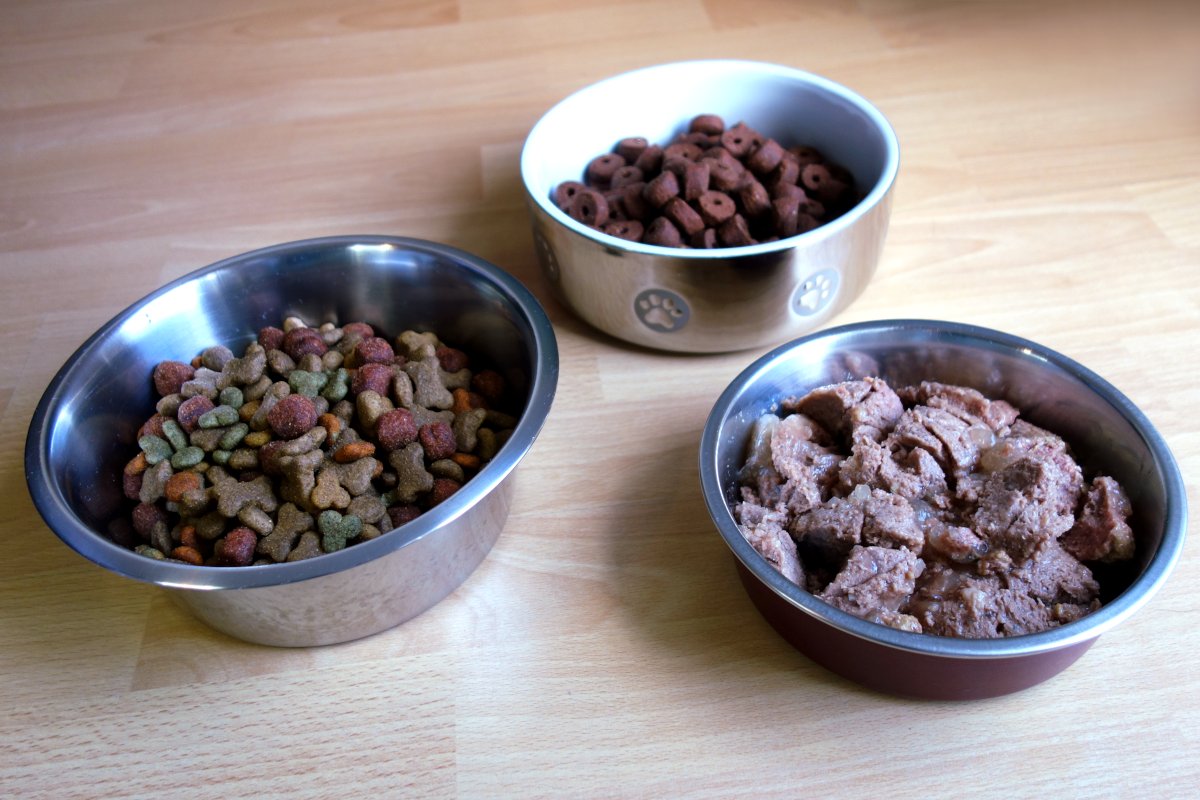 What is there for dog food?
Here is an overview of the dog food varieties that can be purchased.
What kind of dog food is there? – Just take a look at the long rows of cans, bags and packages on the supermarket shelves.
Dogs do not really care what their food looks like when it smells and tastes good.
Dried dog food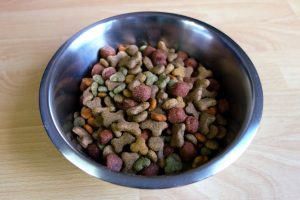 Dry food for dogs was invented around 1860 and is one of the most popular types of dog food. Dry food is usually extruded or pressed into pellets.
It contains about 10-20% water.
Dry dog ​​food is easy to portion and will last up to 12 months in cool and dry storage.
It is not recommended to feed the dog with dry food only because its natural food would contain more liquid.
You can also soak the dry food.
Production of dry dog food
Dry food extrusion
Under high pressure and with steam, the mixture of various meat and plant parts is centrifuged and pressed into the respective dog food croquette shape.
Then the croquettes are heated or baked and allowed to cool.
Then a solution of vitamins, proteins and fats is sprayed on the croquettes. This means coating and helps to improve the taste of dry food.
In addition, the nutrients lost in the heat and pressure process must be replaced by artificial nutrients.
Cold-pressed dry food
For cold-pressed dry food, meat, cereals, vegetables, etc. are mixed in ground or powdered form. The mixture is sprayed with cold water and processed into a dough.
The food dough is then pressed through a grid and gets its pellet shape.
The cold-pressed dry food is heated to about 80°C (175°F), which protects the nutrients contained therein and they do not need to be sprayed extra.
Wet dog food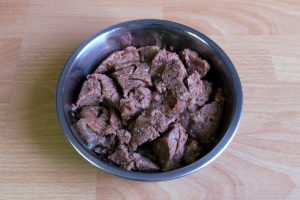 Most wet dog food consists of up to 95% water. It is usually offered in cans or bowls, but also in glass or in bags.
The ingredients are heated during production and thus preserved.
If an ingredient is specially highlighted, e.g. "With chicken", then the proportion of chicken in the dog food should be at least 4%.
It is not recommended to feed your dog exclusively with wet food, because the dog's teeth often suffer from it.
Semi-moist dog food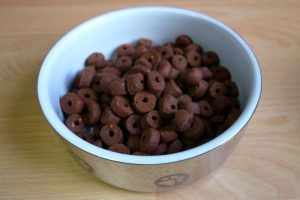 Semi-moist dog food is easy to portion and is also a good choice for traveling.
It contains between 50 and 60% moisture and is very tasty for the dog. But since it contains a lot of carbohydrates, you should feed little of it.
The best way to mix the semi-wet dog food with dry food or fresh food.
Puppy food
A puppy needs about twice as much nutrients and energy as a full-grown dog at the beginning of his life. In growth, the puppy needs a feed that is intended for puppies and young dogs and contains more nutrients and calories.
For the puppys bones to develop well, the calcium content in the dog food must be adjusted accordingly for puppies.
Complete food
When feeding dog food, which is declared as "complete food", the dog gets all the necessary nutrients in a meal.
The composition and amounts of the added nutrients are usually tested in animal experiments until they are present in a balanced ratio.
If a high-quality complete food is fed, you dont need to add additives or supplementary feed.
Fresh dog food
Of course you can prepare fresh dog food yourself.
The basics for fresh dog food are meat and cereal products as well as fresh vegetables and potatoes. Muscle meat contains a lot of protein, in liver are essential vitamins for the dog.
Special goodies are beef rumen or fish (without fishbones).
In addition to meat, the dog gets rice, oatmeal, pasta and eggs. You can also take ready-made dog flakes for mixing.
Also dairy products such as curd or cottage cheese can be added to the dog food.
In order for the dog food to get the necessary amount of fat, always mix in some oil. In addition, you should add a very small pinch of salt, so that the electrolytes of the dog are balanced.
What kind of dog food do you feed to your pet? We would love to hear your story!